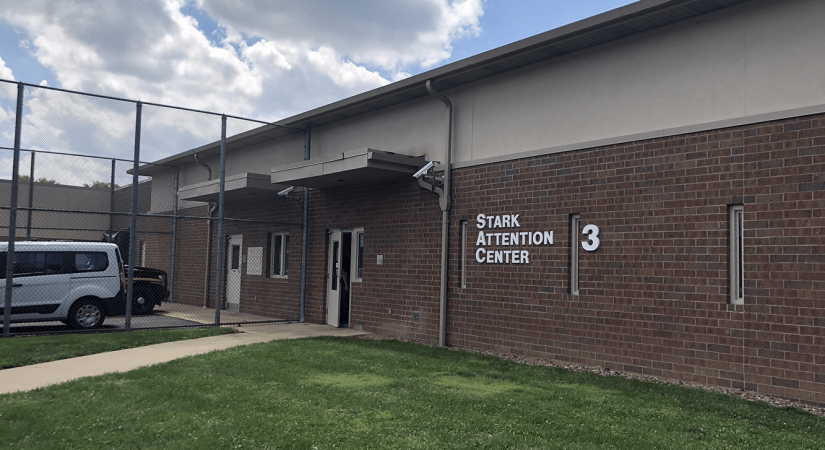 Administrator – Walter R. Thornsley
815 Faircrest Street SW, Canton, Ohio 44710
30 bed secure facility, Serves Male Youth
The Stark Attention Center is a 30 bed locked facility that serves male youth under the age of 19. While the center is designed to hold 30 youth at a time, there are times when youth are transported to one of our other three outlining centers because of overcrowding or for safety or security reasons. This ability to separate youth is an added benefit to our member counties. The primary goal of the Center is to carry out the mandates of the Ohio Revised Code by providing safe, secure, and humane temporary custody of youth held by the Juvenile Courts, length of stay is determined by the Courts.
A major component of all the attention centers is the Responsible Behavior Program. The Program encompasses five progressive levels. Youth earn their way to higher levels by demonstrating pro-social behavior and personal responsibility. Each level offers youth more privileges, such as more free time or longer phone calls. Youth can also loose privileges through the program for major and minor behavior violations. The program provides youth a clear direction and simple rules that identify the strength in each child and emphasizes them.
The educational program at the Stark Attention Center is provided by Canton Local Schools. The program is very strong and high standards are set for youth. These standards often result in youth being more successful than they are in traditional school. This is largely due to the ability to work one on one and the teachers who work diligently to make sure that each youth's needs are met regardless of their grade level. A high premium is set on reading and the library at the center gets a lot of use. Youth especially enjoy the art class.
The staff at the Stark Center really "makes a difference". Life skills are offered daily and gives staff members the opportunity to work with youth in their care on a variety of topics. Youth participate in "Thinking for a Change" which challenges them to look at their behavior and the consequences of their actions and to think before acting.
Sessions are also provided by Faith Family, Early Childhood Resource Center, Stark County Family Court, and various outside speakers.
Meals are prepared daily by Serve Safe Cooks and our Medical Department is headed by a fulltime Nurse.
Faith Family Church provides a church service so the spiritual needs of our youth are met. This is a non-denominational format. MCJAS has a wonderful church volunteer program that is a positive influence on the youth and never seems to give up on these young people. Our volunteers don't judge but instead acknowledges that we are all flawed and we all have a need to be nurtured and forgiven, a theme that comes across to all of the young people that participate.
Family visitation is encouraged. Staff understand the family interaction is important and a vital part of the youth transitioning back to home. Youth also have the option of virtual visits through our Zoom Sessions.
The staff at the center remain committed to helping youth who enter the center now and in the future.